国内领先的智慧园区&政企数字化转型解决方案提供商,已确认参展第二十五届中国国际高新技术成果交易会(6号馆6B15展位),即将展示园区智慧管理平台,智慧招商,智慧租住,智慧园区IOC等园区数字化和政企数字化解决方案,更有"1元"建智慧园区活动火热进行,欢迎莅临参观。
The leading domestic smart city, government and enterprise digital transformation solutions provider, we confirm our participation in 25th China International High-tech Fair (Hall 6, Booth 6B15) and will showcase the smart city management platform,smart investment and smart leasing. Smart Housing, Smart City Intelligent Operations Center, government and enterprise digitization and other digitization solutions. Welcome to visit us.
湖南华宽通科技股份有限公司,成立于2010年,股票代码:832849,公司总部坐落于湖南长沙湘江新区,是国内领先的智慧园区和政企数字化解决方案提供商。提供从规划、设计、开发、建设、运营为一体的产品和服务,一站式为政府、园区、企业解决数字化转型和业务智能化的难题。
Hunan HKT Technology Co., Ltd. was established in 2010 (stock code: 832849). The company headquarter is located in High-Tech Development District of Changsha city in Hunan Province. It is a leading provider of smart city solutions and digital solutions for government and enterprises in China. We provide products and services including planning, integration, designing, development, construction and operation. We provide one-stop solution to the problems of digital transformation and business intelligence for governments, industrial zones and enterprises.
深圳华宽通科技有限公司作为其下属全资子公司,立足深圳,辐射海内外,目前已覆盖全球100多个国家和地区。
As its wholly-owned subsidiary, Shenzhen HKT Technology Co., Ltd. is based and in Shenzhen and we provide services globally with covering more than 100 countries and regions around the world.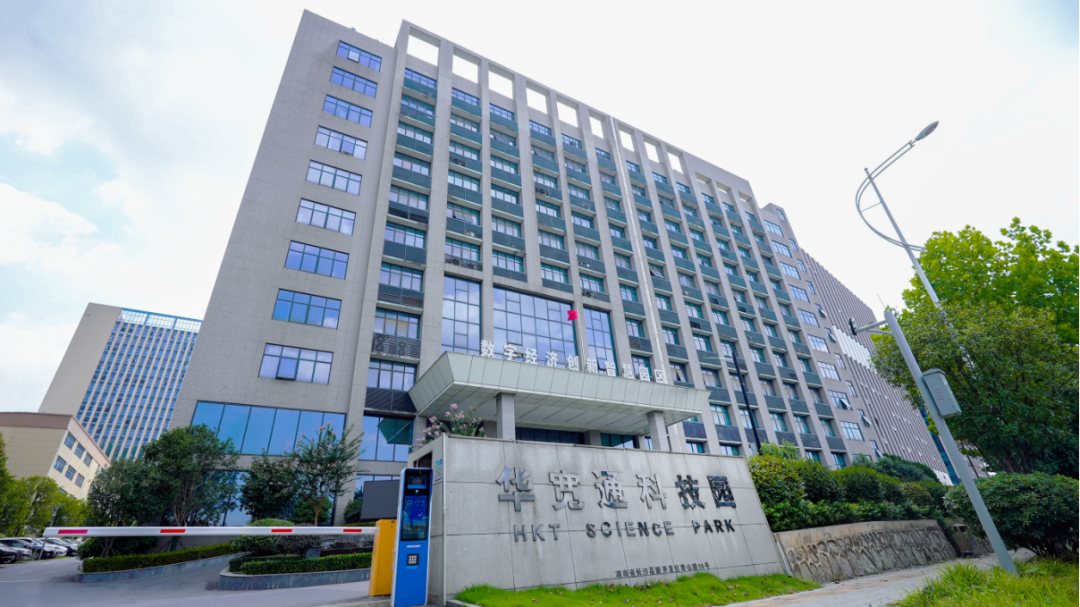 华宽通建设有智慧园区示范基地,总占地面积2万平方米,建筑面积5万多平方米。在园区多平台、多场景运营的复杂环境下,以"态势可视、运营可控、业务可管、服务可感"为目标,聚焦园区招商、租控、财务、运营、物业等核心业务,从自身实践中沉淀出智慧园区整体解决方案,服务广大客户。
HKT has its on smart building demonstration base with a total area of 20,000 square meters and a construction area of more than 50,000 square meters. In the complex environment of multi-platform and multi-scenario operations with the goal of visible situation, controllable operations, manageable business, and sensible services.We focus on core businesses such as investment promotion, rent control, finance operations and property management in the . Smart city solution from its own practice to serve our customers.
园区智慧管理平台(资产、物业、消防、安防、人员、车辆、能耗等)
Smart Building, management platform (assets, property management, fire protection, security, personnel, vehicles, energy consumption, etc.)
平台聚焦园区招商、运营、服务核心业务,建设以应用为导向、以服务为核心的智慧园区综合管理平台。
The platform focuses on the core businesses of investment, operations and services with providing application-oriented, service-centered comprehensive smart building management platform.
实现园区资产数据可视化、招商租赁便捷化、业财数据一体化、运营分析数字化、物业服务标准化、设备管理统一化,降低园区管理成本,打造运营省心,企业放心的全方位智慧园区。
Realize the visualization of asset data, facilitate investment and leasing, integrate industry and financial data, digitize operational analysis, standardize property services, and unify equipment management, reduce park management costs, and create an all-round smart solution for worry-free operations with peaceful mind for enterprises.
Smart investment promotion in industrial zones (full life cycle before, during and after for industrial investment promotions)
方案以全景产业链数据、全量企业数据、全面风险舆情数据为基础,集企业评价、招商、监管、服务四位一体,深度洞悉园区产业发展趋势,挖掘目标企业,寻找招商路径,实现精准触达。最终建设招商引资项目从招前评估、项目落地以及招后监管的全流程管理体系,创新招商引资模式,提升招商引资效率。
The plan is based on panoramic industrial data, full enterprise data and comprehensive data. It integrates enterprise evaluation, investment promotion, supervision, and services. It provides in-depth insights into the industrial development trends, discovers target enterprises, finds investment paths, and achieves precise reach. Finally, we will build a full-process management system for investment promotion projects from pre-recruitment evaluation, project implementation and post-recruitment supervision, innovate investment promotion models, and improve investment promotion efficiency.
智慧租住管理平台(公租房、保障房、酒店、公寓、宿舍)
Smart building management platform (public rental housing, affordable housing, hotels, apartments, dormitories)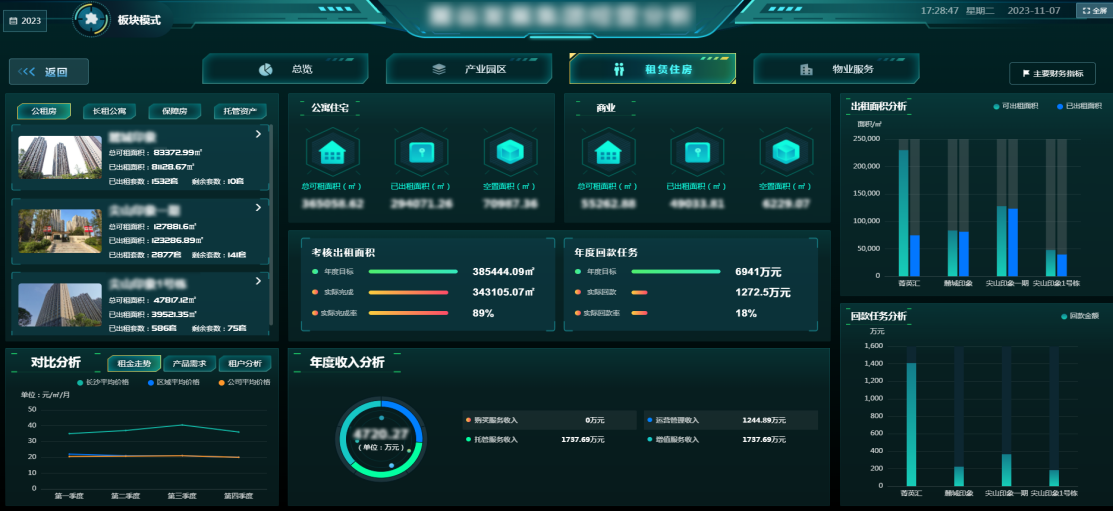 解决方案能帮助运营团队,快速梳理房源发布、资格审核、合同签约、智能催缴、入住服务的全流程业务逻辑,盘清盘活保障房资产,及时输出各类报表数据,辅助决策者实时掌握运营情况,确保流程合规,经营提效。
The solution can help the operation team to quickly sort out the business logic of the whole process of housing release, qualification review, contract signing, intelligent collection, and check-in services, inventory and revitalize affordable housing assets and provide various report data in a timely manner to assist decision-makers in real-time understanding. Operational status, ensuring process compliance and improving operational efficiency.
其中监管功能板块,可实现对申请者的房产情况,保租房或公租房申请历史等信息进行核实,提高资格审核速度,实现全流程监管,确保资审合规。
Among them, the supervision function section can verify the applicant's real estate situation, rental housing or public rental housing application history and other information, improve the speed of qualification review, realize full-process supervision, and ensure compliance with qualification review.
Smart City Intelligent Operations Center
平台以数字孪生实现对现实园区的全域感知,聚合园区内多源数据,对园区各要素精准定位、全面管理以及实时追踪,建设运行指挥调度一张图,赋能园区可视、可管、可控、可预测,从而对园区进行智能监督和有序管理,提升园区运营效率。
The platform uses digital twins to realize global awareness, aggregates multi-source data in the city, accurately locates, comprehensively manages and real-time tracks all elements of the city, and provides one map for command and dispatch of construction and operation, making the city visible and manageable. Controlled and predictable, the city can be intelligently supervised and managed in an orderly manner to improve operations efficiency.
*以上仅是部分产品展示,更多特色产品和优秀解决方案尽在高交会智慧城市展。
华宽通"1元"建智慧园区活动火热进行,详询
The above are only part of the product displays. More featured products and excellent solutions can be found at the "High-tech Fair".Please inquire for details.
联系电话:刘女士 18673242833
商务邮箱:sales1@hktchn.com
公司网站:www.hktchn.com(国内)
Contact Person:Sam De Zoysa +86 19918859010
Business E-mail:sam@hkttech.com
Officail Web: www.hktlora.com